PRINTS
'
SHOP | Select Prints |
Skyline Art
Editions
Skyline Art Editions carries several of my pieces which can be printed on various substrates and sizes.
Reasonable prices and a high quality product.
They are great to their artists!
---
Enhanced Prints
---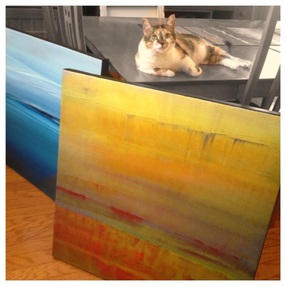 ---
PThese are a good option if original artwork does not fit into your budget.
Whether for yourself or your client, these make a great statement.
An enhanced giclee on canvas looks and feels like an original painting.
Images are printed and then I finish them with texture and some marking.
Each has unique features.
The images are signed on the back like an original painting.
The enhanced prints can be on loose canvas or stretched.
Sizes can be adjusted according to need.
Images can be cropped to meet client need.
Cost is based on square feet. Currently priced at $45/square ft.
common sizes:
24 x 24 $200
30 x 30 $300
36 x 36 $450
12 x 12 $60
TO THE TRADE
​
Please
contact
for project bids.
Costs will vary based on size and quantity.
Images for printing- For image needs larger than 36" please contact for pricing.
---